Aloha!
Welcome to the SUP Sports ® Board Overview page…
NEW! Two tone carbon color finish options on our WD…Stoke…Mahalo…& One World production models…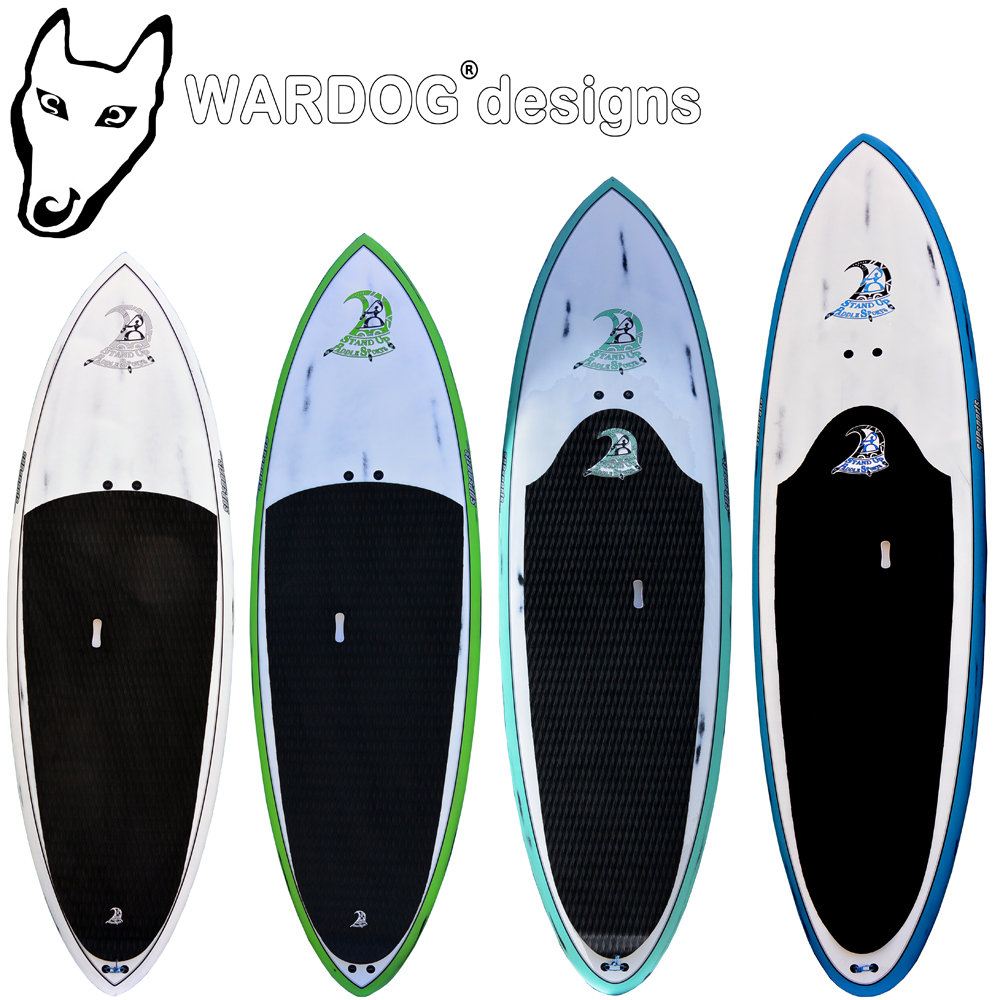 WARDOG ® piloting a custom California built 9'2″ x 31″ Stoke into some sweet sections deep in Central America…
All 15 of our refined SUP board models shown below with gorgeous Australian Pine wood veneers, plus 8 new production Hammer models, are meticulously developed, designed, and tested by us in Santa Barbara before going into final production. They are available in our acid washed SUPerLite carbon construction in strikingly beautiful brushed carbon finish…as well as custom SUP shapes made here in the US to your specifications…give us a call or email, we are here to help you perfectly tweak it to your specifications…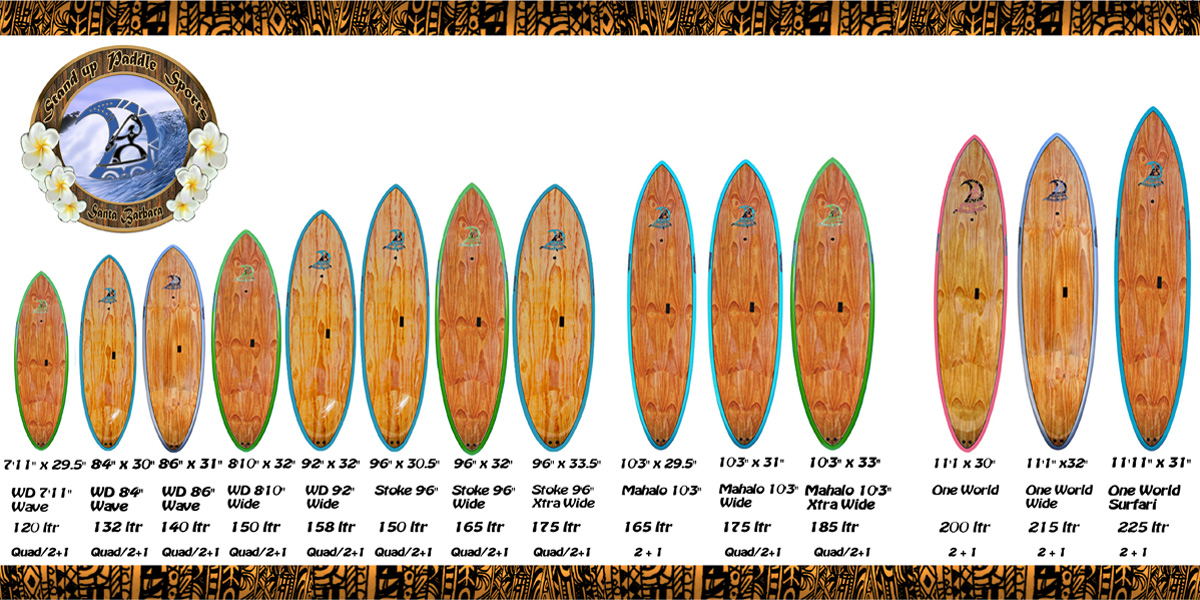 Pricing is easy…here's how it works:
The gorgeous boutique quality production boards with Australian Pine decks are $1299…
The boards with Australian Pine decks and bottoms are $1399…
Our acid washed SUPer-Lite carbons are $1799…
The only exception is the 11'11" One World Surfari which is $50 more than base price in Australian pine and $100 more than base price in carbon…includes Custom bamboo fin(s)…non-H20 absorbing pad…and, big wave rated leash with safety quick connect…plus, shwag…and, a heapin' helpin' of pure old school STOKE!
UNSURPASSED QUALITY…PERFORMANCE…VALUE…our STOKED CUSTOMERS say it best…
SHOP OUR SUP STORE…
MADE IN CALIFORNIA , USA CARBON STANDUP PADDLE BOARDS FOR SALE
Check out some more of our latest ultra-premium Made in the USA standup paddle board creations…
NEW! Our production carbon Hammers in two tone brushed finish…Seafoam Green , Maui Blue, & Lime Green…
SAVE NOW! these boards are phenomenal value at $1799 complete…custom fins, pad, and big wave rated safety leash…some of our competitors price their carbon boards over $1000 higher!
Click image below for an enlarged overview of our beautifully refined boutique wood SUP board line…by far, best bang for the buck SUP on the market…hundreds of dollars less than the closest competition…let alone the fact that we are the only SUP company that customizes the SUP fins that will come with your board…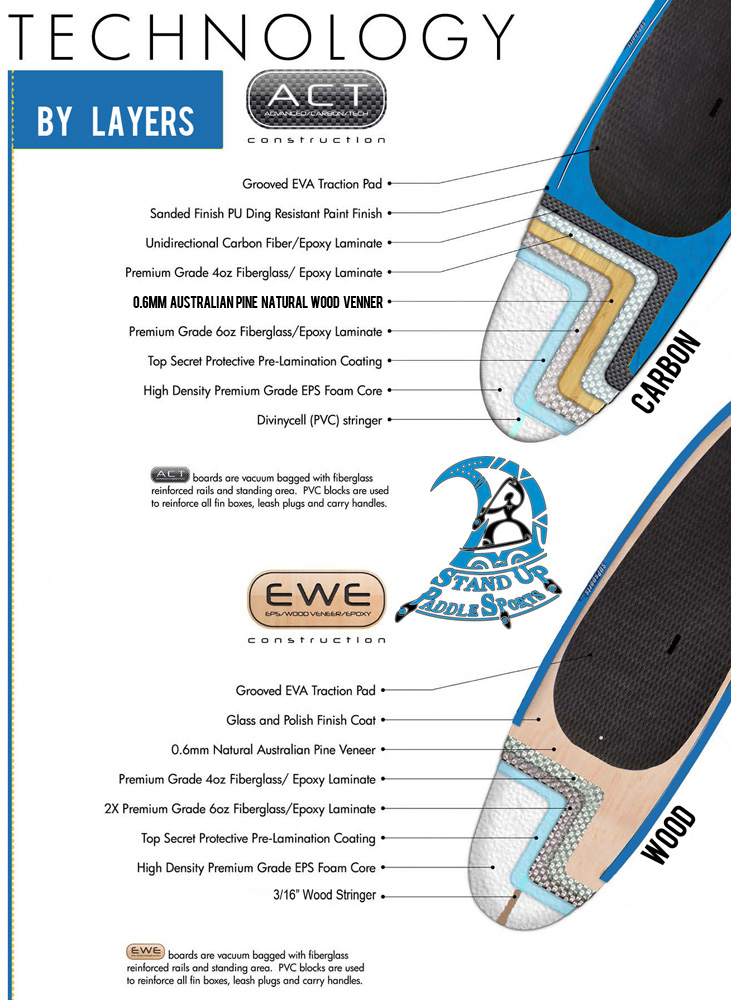 Tons of board info in our two page spread in the 2013 Deep Board Buyers Guide…
Click to enlarge…
NEW! WD 7'11" x 29.5″ at 120 liter high performance wave ripper just added…
We have been totally immersed in boarding culture for over 4 decades (ABOUT)…and, we bring that unique experience into all of our SUP product design…relentlessly pursuing excellence with continuous product improvement…strong attention to detail…that is our value proposition…
Think of us as a small batch vintner…producing high quality wines at a very fair price…CHEERS!
QUALITY…VALUE…PERFORMANCE…INNOVATION…
A few of our STOKED FOR LIFE ® clients…
Our product designer, Wardog, has over 4 decades of boarding experience…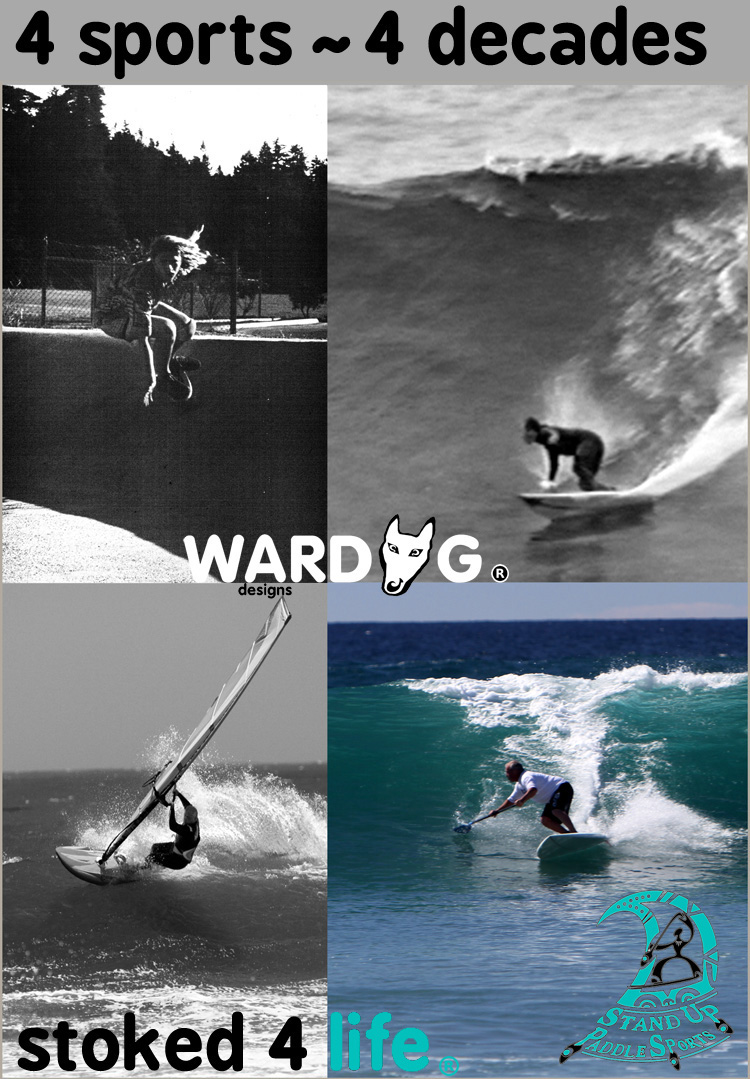 The family that paddles together…stays together…
A few more of our stoked for life clients…
FUN & EXCITING LIMITED EDITION ACID WASHED CARBON SUP'S ARE HERE!…RESERVE YOURS NOW!
We now have over 200 brand spanking new SUP's in stock…our lineup has over 132 SKU options…let alone everything else we carry…best selection in the universe…;-)
Margaux is stoked with her 9'6″ Stoke…everyone in Washington, DC should get their stoke on!
Bennett Williams dropping into a beast of a wave on our 11'1″ x 30″ One World powered by our 100 sq. in. carbon/bamboo SUP paddle…
Our expanding production SUP lineup has become the hottest board line on the market…new sizes and new colors…all with factory direct pricing…SAVE HUNDRED$…Australian Pine decks $1299…includes best quality pad, fins, and leash…military grade GoreTex vent valve…
Have questions? Our friendly and experienced staff are standing by to help you…
Call our toll free lines 888.805.9978 :: 877.339.7310 if you're out of the 805 area code…otherwise, our local line 805.962.7877 (SUPS) is open for free consultation…or, email us 24/7 for expert advice and consultation…if you are ready to order, we can give you a secure and encrypted online ordering link, our downloadable FAX/EMAIL ORDER FORM (click), or PayPal money transfer address…of course, we'd love to talk to you over the phone to ensure that you get exactly what you want and need…we're open daily 10-5 PDT and staffed with real live experienced standup paddlers to make your purchasing experience a no worries dealio…
You can sleep well at night knowing that you are dealing with honest people with integrity at a real brick and mortar business…we've been providing our STOKED FOR LIFE clients
with the best bang for the buck products for over 13 years…
PERFECTION ACHIEVED…CLASSIC…STYLISH…TIMELESS SHAPES…
USER FRIENDLY HIGH PERFORMANCE PROVEN DESIGNS…
HERE NOW: 10'3″ X 33″ MAHALO XTRA-WIDE & THE NEW 11'11" x 31″ ONE WORLD SURFARI MODEL…
Also, check out the new 8'4″ x 30″ and 8'6″ x 31″ WD wave ripper quad + 1 models…
Check out our SUP Sports blue acid washed carbon production boards…most models priced at $1799 complete with pad, fins, and leash…priced hundred$ of dollars less than the competition…
CLICK IMAGE BELOW FOR MORE PICS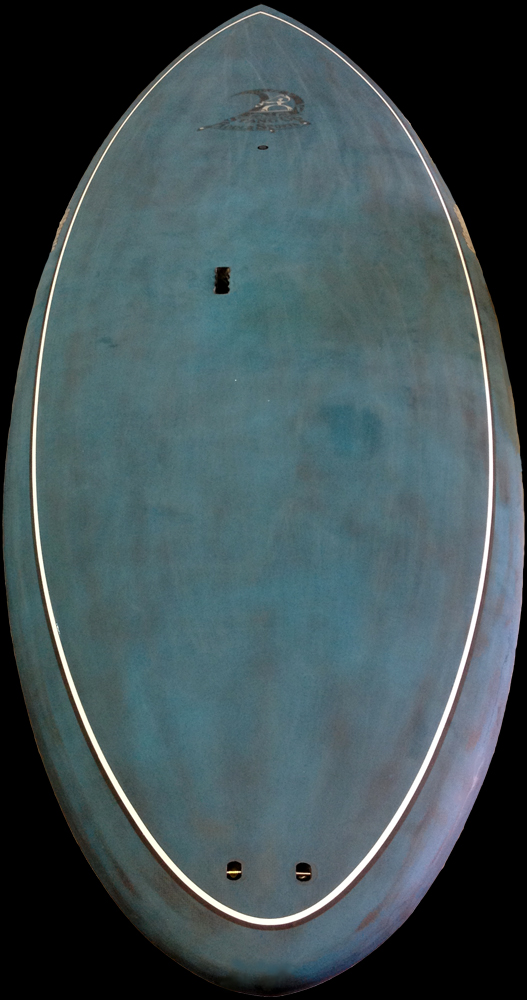 Click image below to see our acid washed Maui Blue carbon SUP's in action…
Three construction choices…production wood veneer (Australian Pine deck models $1299)…production carbon (most models $1799)…USA built custom carbons (models <11′ $2295)
Big Will drops in with our carbon 10'3″ x 33″ Mahalo…plenty of float for his 250# frame with 185 lters of volume…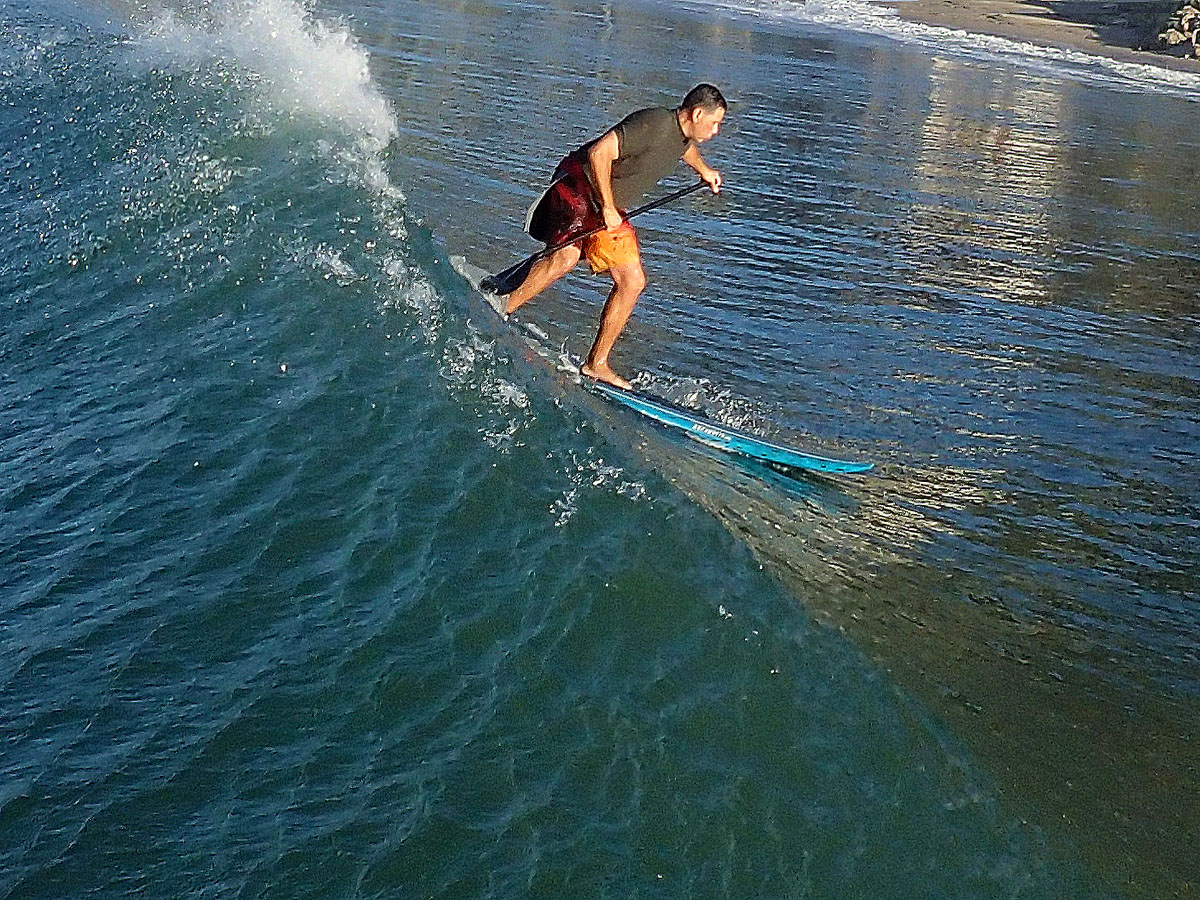 Michael Irwin: "My 8'10" WD is the best board I've ridden! Rips!"
Paul sloping into a soft wave drop knee style on the new 11'11" x 31″ One World Surfari and SUP Sports carbon/bamboo paddle…
From glassy flat water fitness paddling/touring…to 6″ ankle biters on wind driven lake waves…to double overhead mackers in any ocean, the 11'11" One World Surfari gets the job done in style…ONE BOARD…ONE PADDLE…ONE LOVE…
the ONE WORLD is the truest execution of an "all waters" SUP on this water planet…arguably, the best all around SUP on the market…
Shelby paddles with his dog Millie in Idaho on the 11'1″ x 30″ One World…
NEW SIZES AND COLORS NOW IN STOCK…click image below for more info…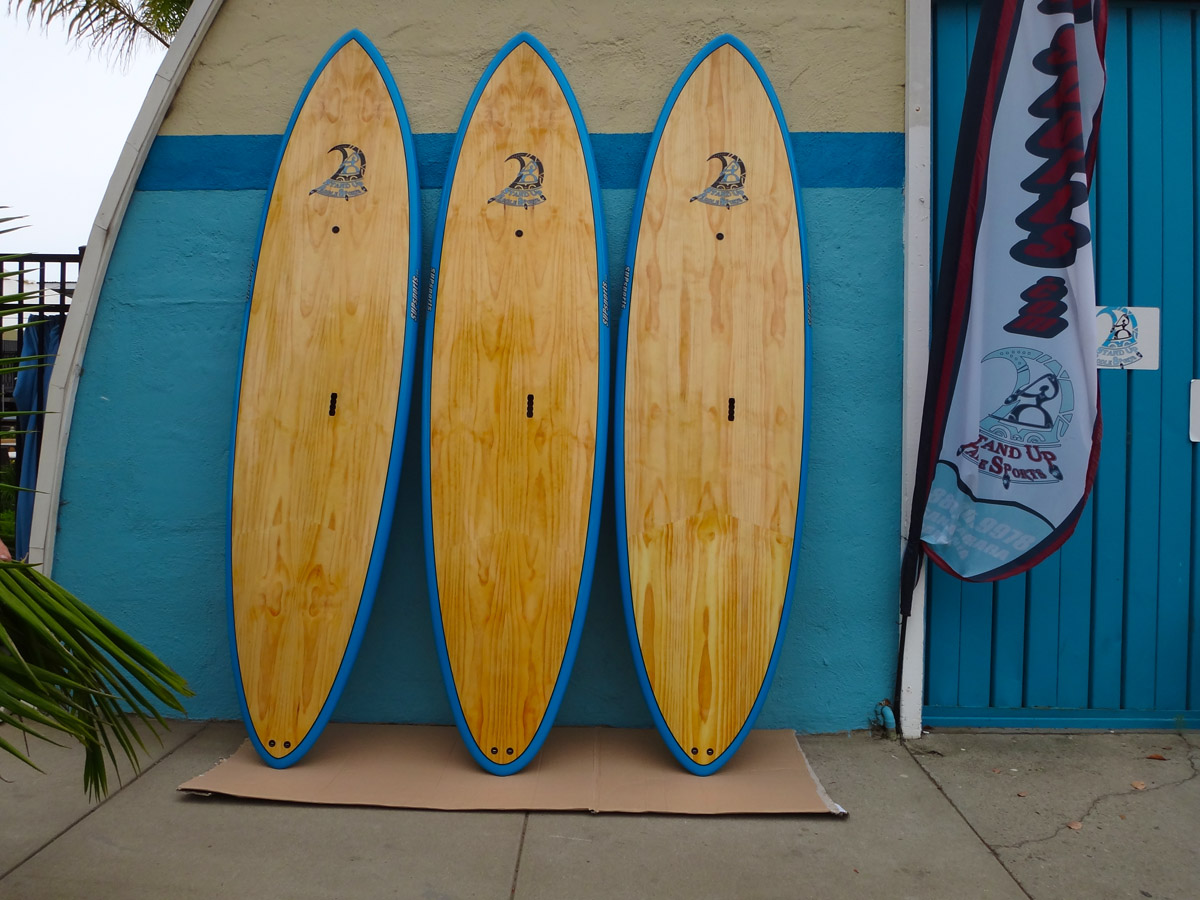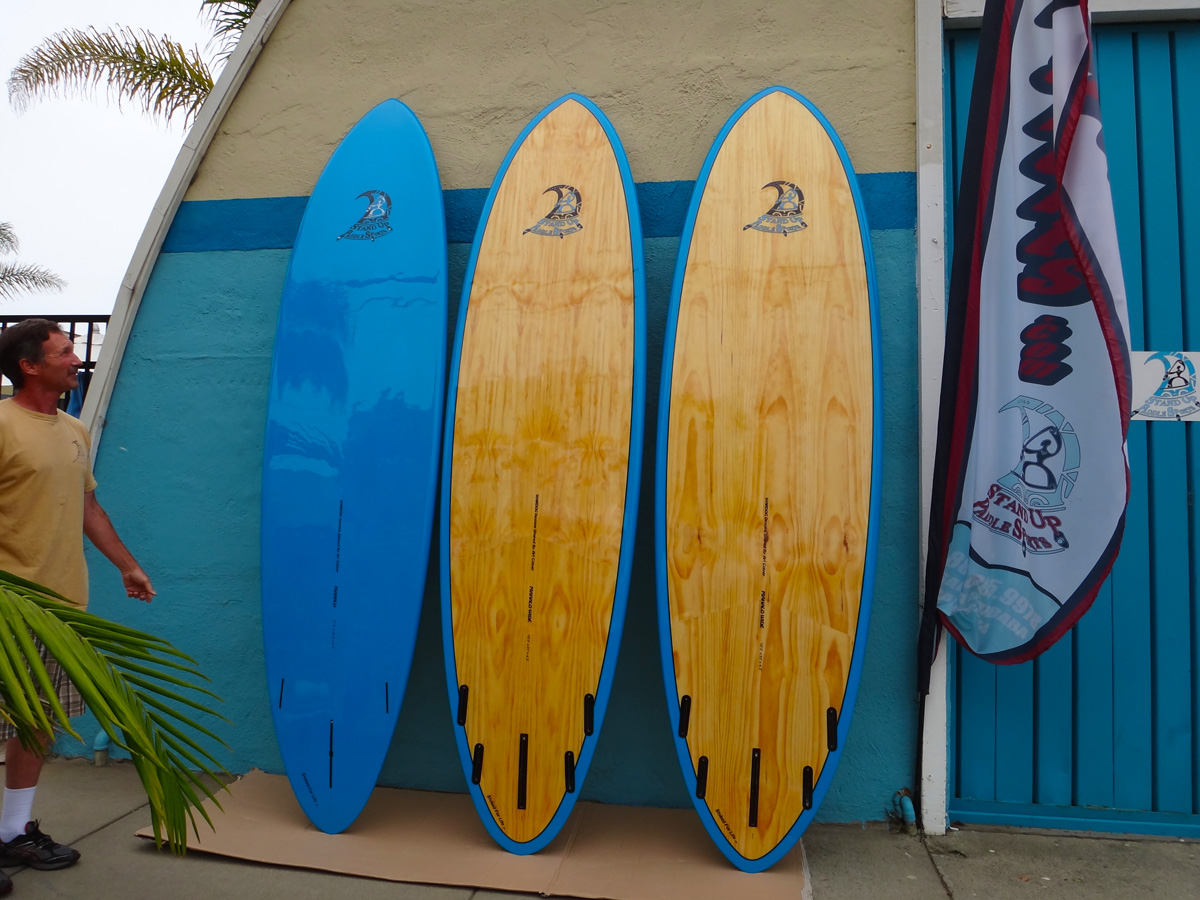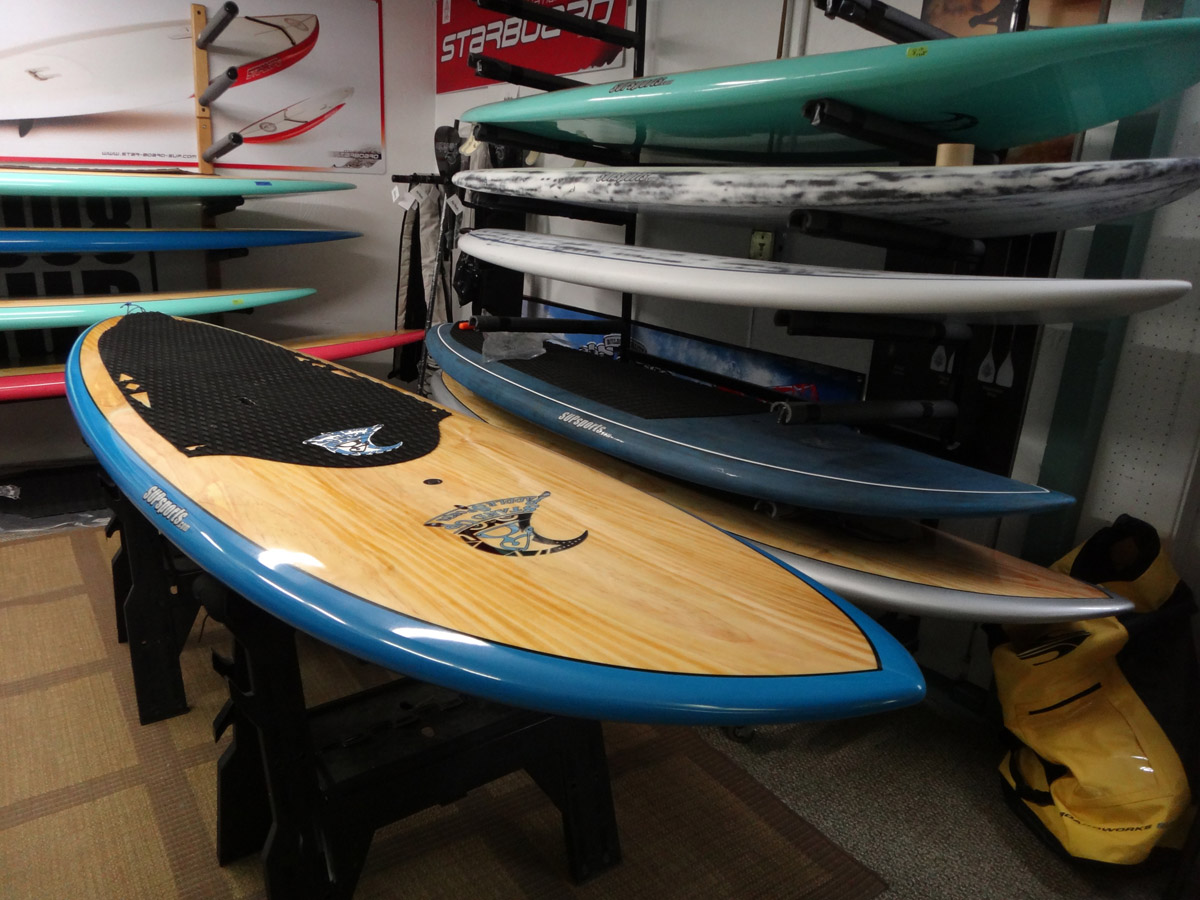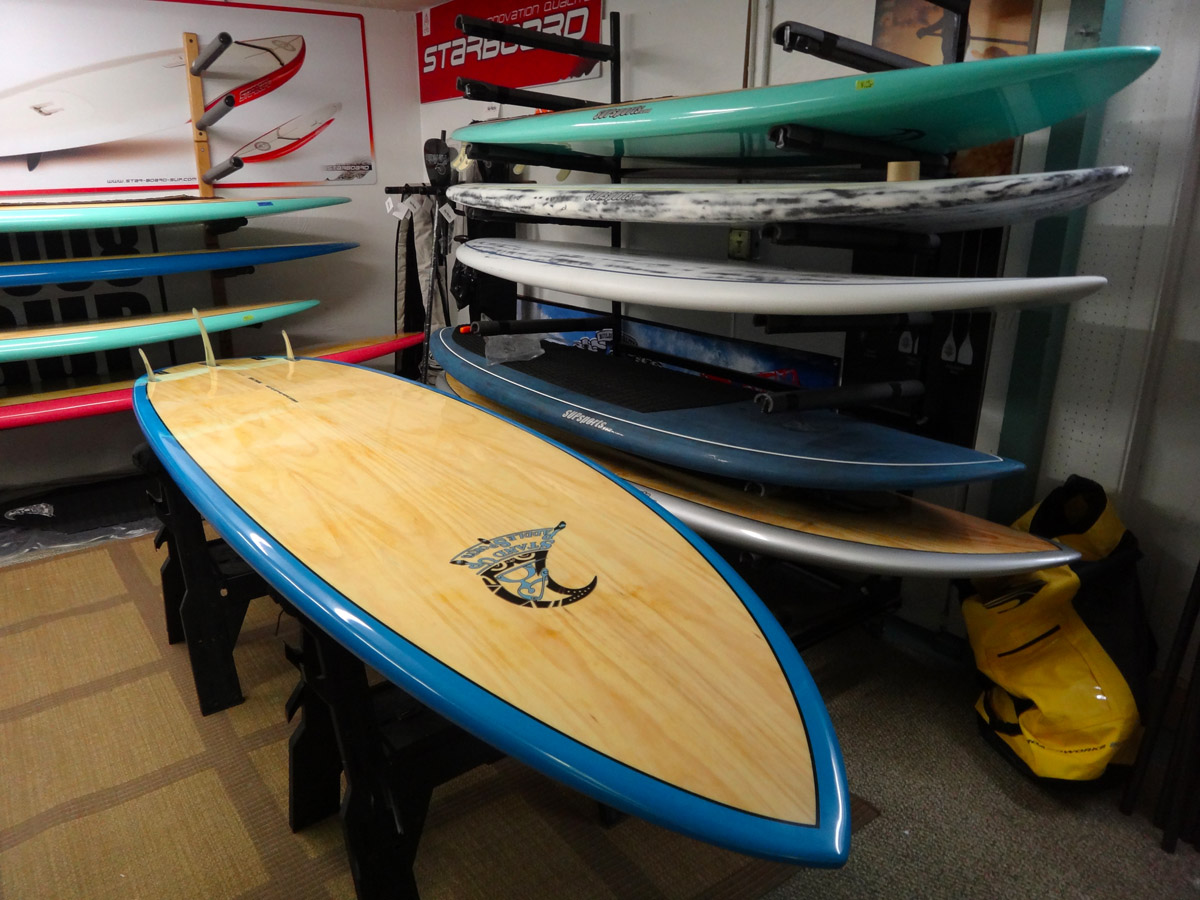 Jessica gliding on the 11'11" One World Surfari in Florida…
The 11'1″ x 30″ One World next to it's big bro the 11'11" x 31″ One World Surfari…click for more pics…
Margaux and Ash showing what it's all about for us…STOKE!
Our iconic logo boards are recognized the world over…unlike the majority of crappy, generic, cheap toy looking, no-name brand KNOCKOFFS now collecting dust in warehouses by get-rich-quick schemers making boards with no history in the sport, trying to shill them in the online marketplace with no brick & mortar storefront…or, in corporate BIG BOX stores alongside disposable diapers…;-)
We've been involved in designing standup paddling gear since 2005…with a long history going back several decades in skateboarding, surfing, and windsurfing before that…we first standup paddled in 2003…as pioneers, we've been ahead of the curve for the last 7 years…our boards have been designed, tested, and the master shapes refined by hands here in the US with over 4 decades of shaping experience before going into production…we are INNOVATORS…not IMITATORS…
EXPERIENCE…INTEGRITY…QUALITY…
All production boards have Australian Pine decks ($1299)…Australian Pine bottoms are optional ($1399)…USA handcrafted FeatherLite carbon models also available…
Mike putting the 8'10" x 32″ WD Wide in Maui Blue through the paces…makes small waves fun…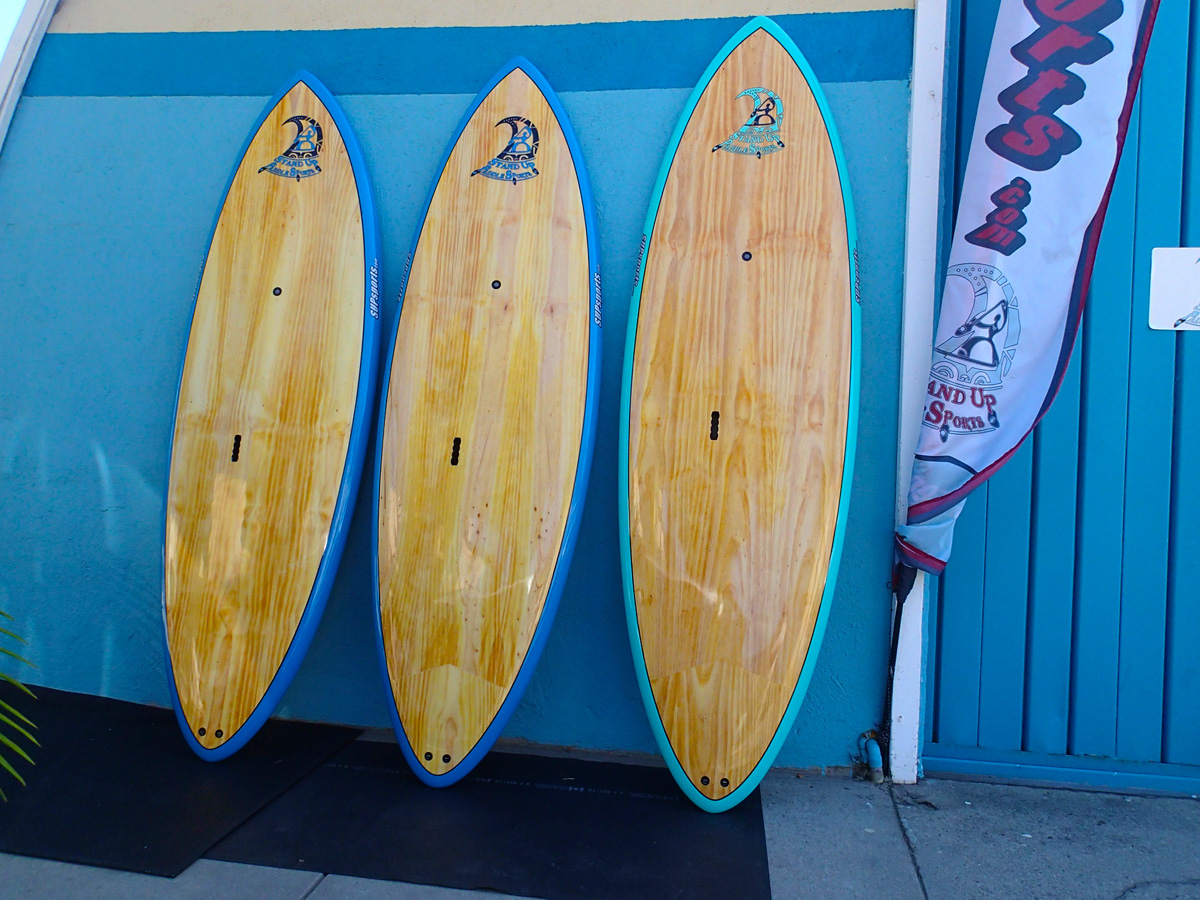 High performance wave rippers…8'4″ x 30″…8'6″ x 31″…8'10" x 32″…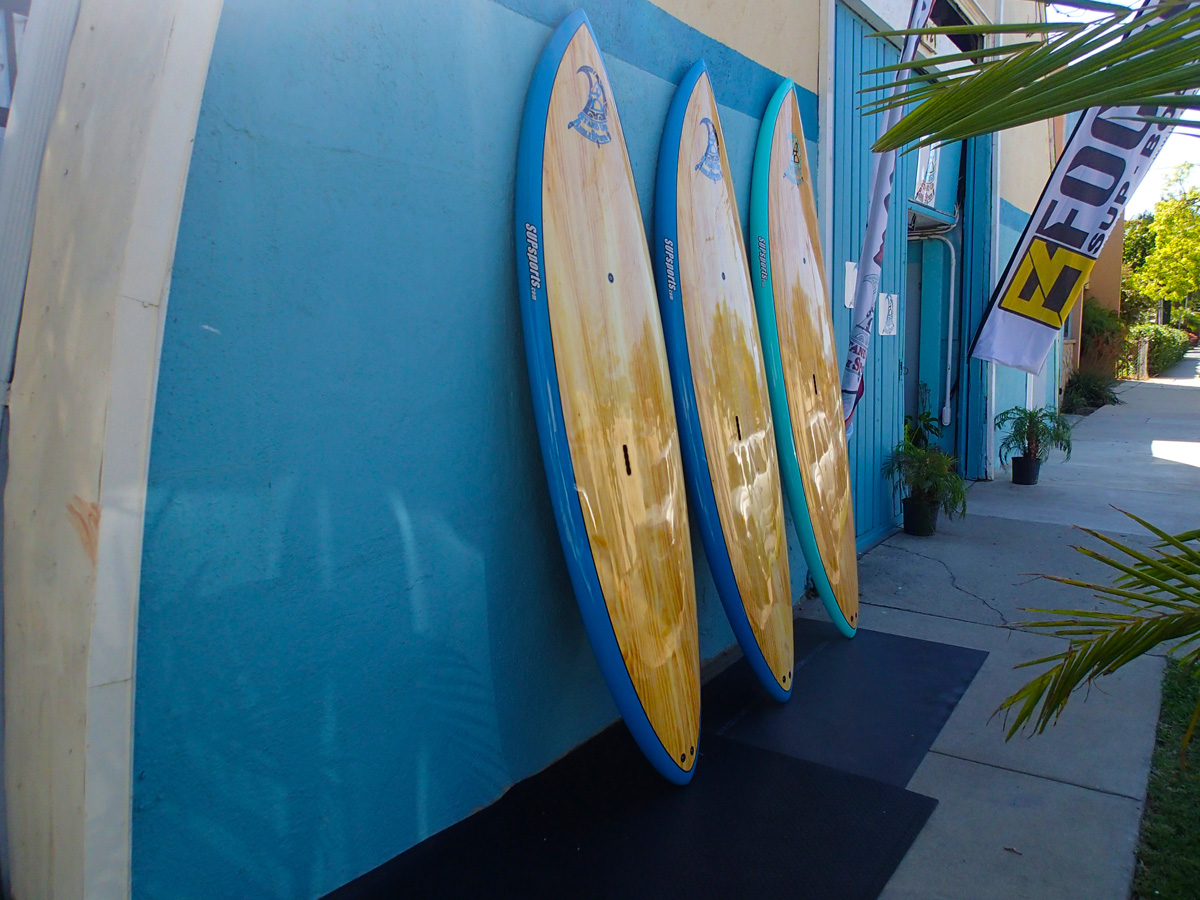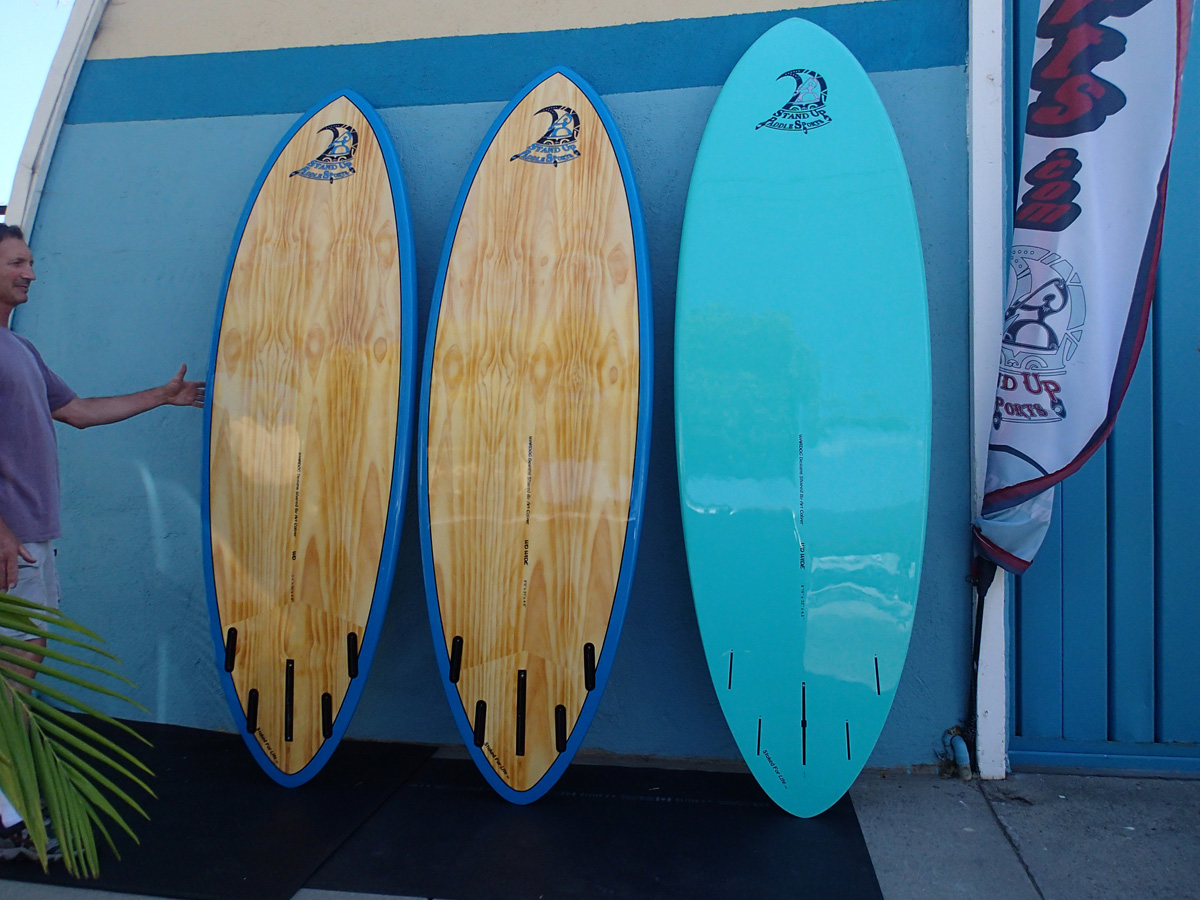 Boards include our non-H20 absorbing iconic logo pad, production or custom bamboo fins optimized for rider application, and high quality leash with safety quick disconnect…we also include one of our high quality iconic logo t-shirts…no sales tax is charged outside California which helps out towards your freight charge…all boards are professionally double boxed and our shipper is rated #1 for speed and safety…3-4 days to the East Coast…
Here's a few notes from our STOKED CUSTOMERS on their SUP Sports boards…
3/11/12
Subject: Mahalo & One World
Warren, we have unpacked the boards and everything looks great. That was quite the wrap job. Thanks for the t-shirts!
We had a chance to take the boards out yesterday. They worked great – we love them.
We got a number of comments on the boards; you just don't see boards like ours in Idaho.
I have attached a few pictures; the scenery isn't pretty but it was the warmest place we could find yesterday. We will send more when we make it to the mountain lakes.
Thanks again.
Shelby L******* (Boise, Idaho)
6/16/12
Subject: One World
Hi you guys :
My One World Wide arrived yesterday afternoon….you guys did a great job of packing it up….thanks…..after about an hour of careful unpacking, it was worth it. It didn't have a scratch on it……my first reaction was WOW…..what a beautiful board !!!!….then it was …..OK where are we going to go to baptize her…..
This morning conditions were…shall we say sketchy ????? I think sketchy is a good way to describe what I found…..the wind was all over the place, it was bumpy, white caps everywhere, heavy clouds over head, thunder and lightning in the distance ect……but after about an hour the wind eased up to about 4-6 mph and I decided to head up the lake to look for one of my favorite coves. Conditions couldn't have been better…..glassy, light wind and for the most part nobody but little old me out to enjoy a very balmy East Texas morning…..and to say the least, my new board blew me away.
The fact that an 11 foot board paddles so fast and smooth like the One World does surprised me. At first I was paddling into the wind, and the nose didn't catch the wind….side chop didn't seem to affect progress much at all either. I know after 4-5 years of paddling I'm getting better but the One World handled everything that was thrown at it this morning and it and I came out on top. I paddled for about 3 to 3 and a half hours….starting out at about 7:30 and got out at about 11:00.
But……call it Mojo, Magic, great engineering or hydrodynamics….but you guys have something more than special with the One World…and I suspect the other boards are just as special too…..but thanks guys……you more than rocked my world with the One World Wide……
Robert Townsend, East Texas
7/10/12
Subject: Mahalo from Michigan!
Hey Warren!
I just thought I'd let you know how much I am loving my Mahalo! I've been paddling since May and just made it back home to Traverse City this past week.
Had a blast paddling all my favorite Lake Michigan spots along the Sleeping Bear Dunes National Lake Shore and more. SUP has really exploded in the area and I got tons of compliments on my board (how could I not?).
Thanks again for all your help with my board – it is being well loved and well paddled.
My husband got a pretty cool pic of me "paddling off into the sunset" that I thought you might get a kick out of.
Me and Mahalo
Casey W******* (Livonia, MI)
Click below for more SUP Sports board CUSTOMER TESTIMONIALS…
All boards are also available in custom carbon or custom airbrushed epoxy…handcrafted in the USA by Art Colyer…a world class shaper that we work with, that has 4 decades of board shaping experience under his belt…
Boards come with iconic logo pad…non-H20 absorbing…GoreTex air valve…our custom bamboo fin designs…and, big wave rated leash with safety quick disconnect…
Deb gliding on her carbon 6 channel 11'1″ x 30″ One World…
One of the big parameters that sets these boards apart from the off the shelf, generic looking, SUP's that are out there…and, quite frankly, most of the stuff we see coming from the bigger mainstream production companies, is that our bottom designs are very refined and hydrodynamically efficient…lots of testing and R&D on glide, stability, secondary stability, lift, drag, and turning efficiency…etc…go into them…
In fact, we're getting lots of calls and emails regarding shape and size differences of our shop boards compared to the industry leading shapes and models from Starboard and others…CLICK HERE for lots of comparison pics and info…
Also, available are our color matched SUP paddles…lightweight and strong carbon shafts with perfect flex…matched with no-flutter blades…great looking…high performance…quality and value…
WHAT'S OUR SECRET?
We have sold thousands of boards at our shop and know what works…what doesn't…and, why…after working with some of the biggest board companies in the world on their board lines…COMPARE TO STARBOARD…the end result is that the best design elements are incorporated into our boards and fins to give you performance and value that will last a lifetime…
Our boards look as good as they ride…QUALITY priced $100's less than the competition…
WD Series :: 8'10" X 32″ X 4.6″ ~ 150 LITERS
The WD Wide 8'10" quad + 1, influenced Starboard to develop the best selling Wide Point Series (CLICK TO COMPARE)…a hot dog SUP for ripping 2′-10′ surf…phenomenal stability and glide for an under 9′ SUP…very airline friendly for travel…also available in a 9'2″ x 32″ wide version with ~ 158 liters of volume…MORE INFO…also available in an 8'6″ x 31″ and 8'4″ x 30″ model…
STOKE Series:: 9'6″ X 30.5″ X 4.4″ ~ 150 LITERS
The Stoke is a refined wave rider with great glide and stability. We've ridden just about all of the mid-9′ SUP's on the planet and the Stoke comes out on top…read CUSTOMER TESTIMONIALS...
The quad + 1 fin box setup allows the rider to dial into whatever the conditions throw out…steeper beach break or smaller waves where a faster board is the call, try running the quad setup…bigger surf where more drive is needed…or longer paddles, run as a trifin…the Stoke is also popular with our wahine flatwater paddling clients who want a smaller board that is stable…glides well…and, is not too big…off-water mobility is a piece of cake…also available in a 32″ wide version called the "Stoke Wide", with ~ 165 liters of volume…our #1 selling board for bigger guys who know how to surf…NEW! Stoke X-Wide 9'6″ x 33.5″…175 liters…
We also manufacture the Stoke in a custom FeatherLite carbon finish…~ 4# lighter…dims can be scaled exactly to your specification…
MAHALO Series:: 10'3″ X 29.5″ X 4.3″ ~ 165 LITERS
The Mahalo is a refined wave rider with great glide and stability. The two +1 fin box setup allows the rider to dial into waves or all water cruising/touring…phenomenal glide for it's size, this board is used as a big wave gun as well as a flatwater cruiser…the pulled in nose reduces exposed surface area to chop and wind…also, very popular with our wahine clients who want a mid-sized board for longer distance paddling, that is stable…glides well…and, is still maneuverable on and off the water…also available in a 31″ wide version called the "Mahalo Wide" with ~ 175 liters of volume…and, our new 10'3″ x 33″ Mahalo Xtra-Wide with 185 liters of volume…option : FeatherLite carbon Mahalo…
ONE WORLD Series:: 11"1″ X 30″ X 4.5″ ~ 180 LITERS
The name says it all…one board that ANYONE can ride ANYWHERE in the world…the truest execution of an "all waters" SUP…GPS testing shows that our "One World" is faster than some company's canoe nose 12'6″ models…;-)
The One World is a very refined soulful, longboard style wave rider with greater glide and stability than a number of 12'6″ canoe nose SUP's on the market…the reduced swing weight in the nose allows the One World to be more maneuverable and surf smaller than it's size…it also reduces unnecessary surface area to catch wind and chop…the bottom contours are hydrodynamically efficient…
A surfing glider or a gliding surfer…you choose…maximum versatility…functional minimalism…ONE BOARD…ONE WORLD…
The two +1 fin box setup allows the rider to dial into waves or all water cruising/touring…the One World also possesses phenomenal glide for it's size, it is being used as a flatwater cruiser all over the planet…the pulled in nose reduces exposed surface area to chop and wind…also, makes it easier to punch out through the waves…should you find them on your venture up or down the coast…also available in a 32″ wide version called the "One World Wide", with ~ 200 liters of volume…coming soon a new 11'11" x 31″ One World Surfari model…option: FeatherLite carbon "One World"…custom pick your width and length…
Our board designs are stable all around wave riders that glide as well as they surf…the master shapes were developed by a collaboration between us and world class shaper, Art Colyer, after a number of iterations and tweaks…we've refined the rockers to provide great glide through the water…and, added concave in the nose that transitions to double barrel vee off the tail allowing for optimum maneuverability in the surf…constructed with the highest quality Australian Pine available, they are also the nicest looking boards on the market…better glide…better tracking…better surfing…better looking…and, better priced than any board in it's class…
Yoga master, Arturo Peal, stoked with his new 11'1″ One World SUP cruiser…Stoked for Life!
Deb powering her carbon 6 channel One World down the California coast….
ONE BOARD…ONE PADDLE…ONE WORLD…ONE LOVE…
We have a number of other models available…including, breakthrough design innovations like the Jammer…15 lbs…strong, bright, and light…stock dims on the Jammer are 8'6″ x 31″ x 4.5″ @ 138 liters…but, we can make it bigger or smaller for rider weight, ability, and conditions…like we did for Robert…his Jumbo Jammer is 9′ x 33″ @ 175 liters….the Orca…and, the new deep 9'4″ x 31″ 6 channel "Groove"…again, any of these boards can be made custom tailored to your specifications…
Click on images galleries below to enlarge…
Click image below for hundreds more pics of this beautifully refined SUP board line…both our production Australian Pine and US handcrafted carbon standup paddleboards are shown…
Click below for images of our high quality bamboo core fins included with our boards…
Here's a sneak peek of some of what's rolling off of the production line of our SUP Sports house brand SUP's…
Maui Blue…Honeysuckle Pink…Seafoam Green…and, Platinum Silver…click image below for more info…
The 10'3″ x 31″ Mahalo Wide in Maui Blue…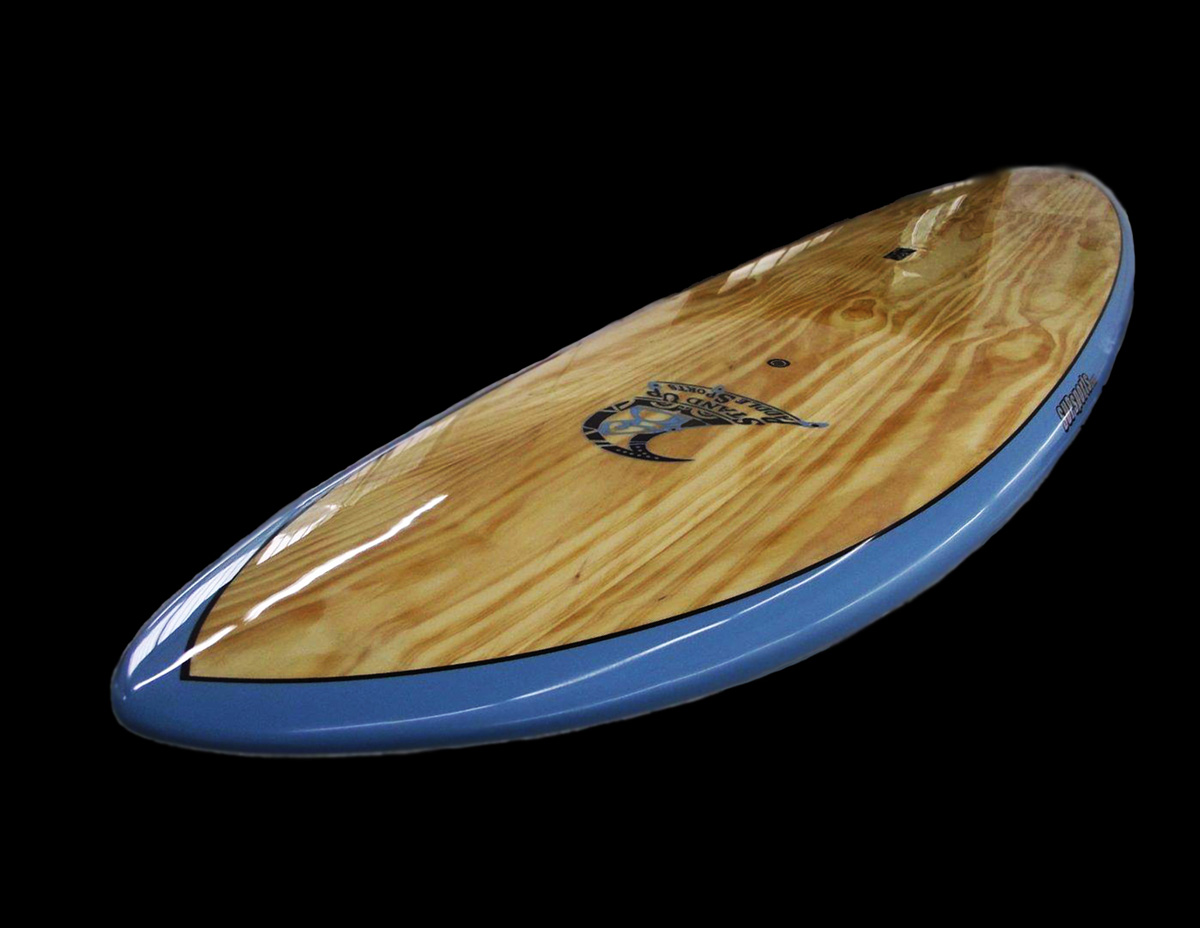 The 9'6″" x 32″ Stoke Wide in Seafoam Green…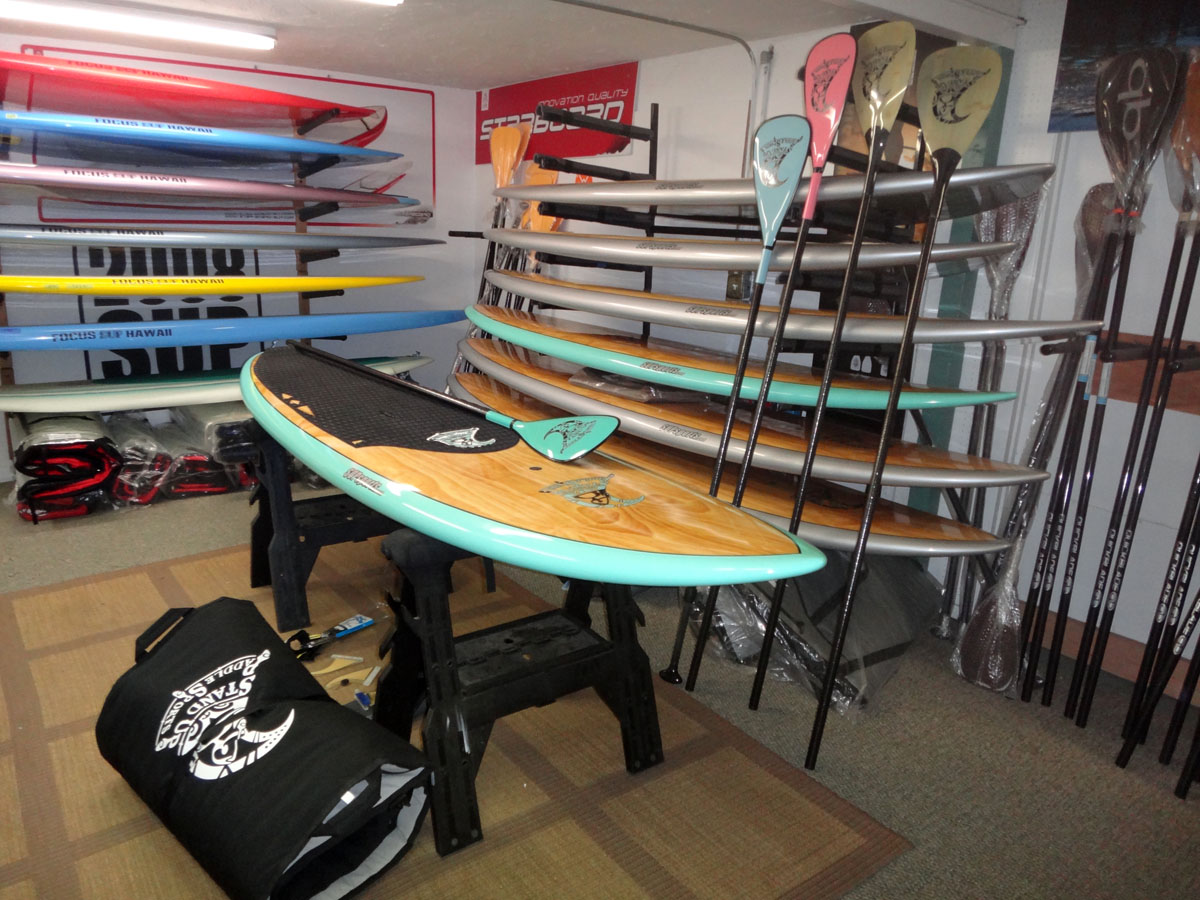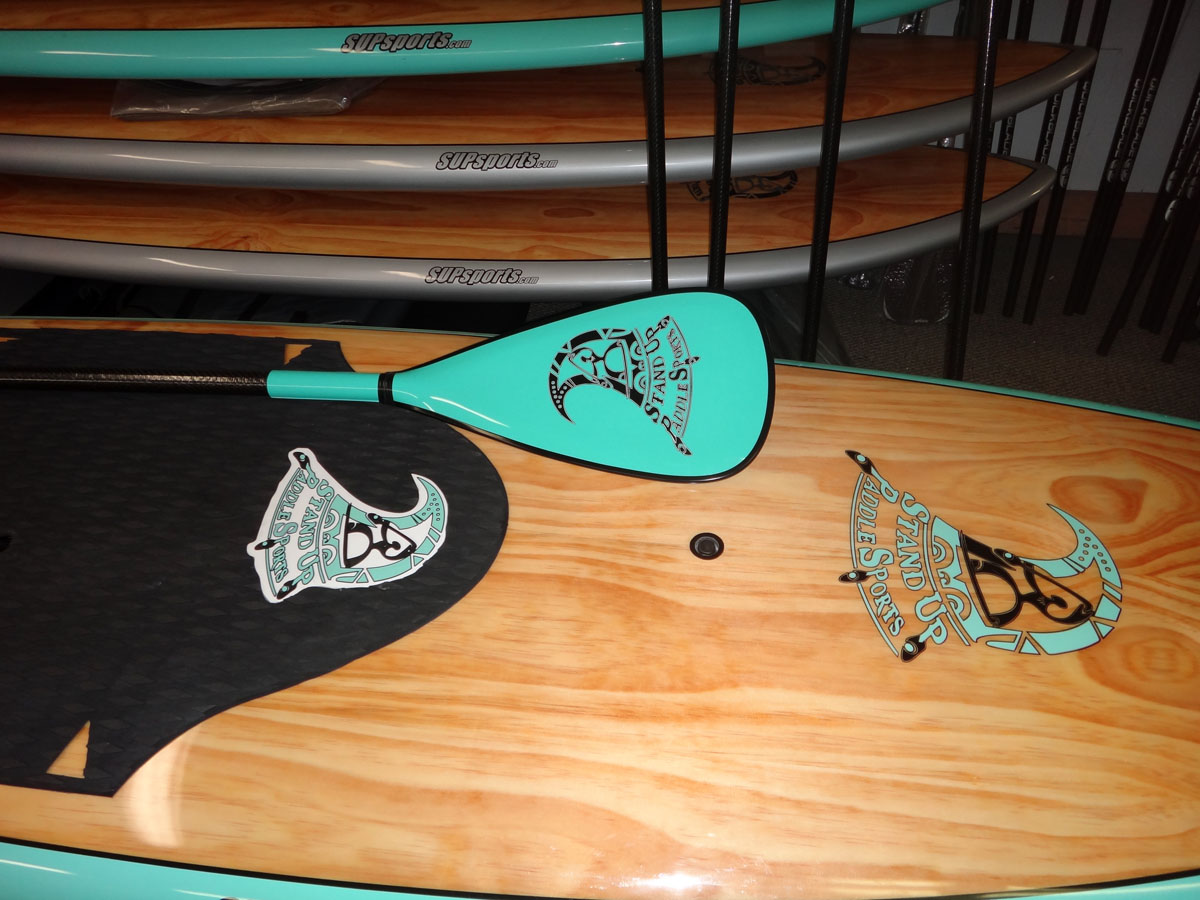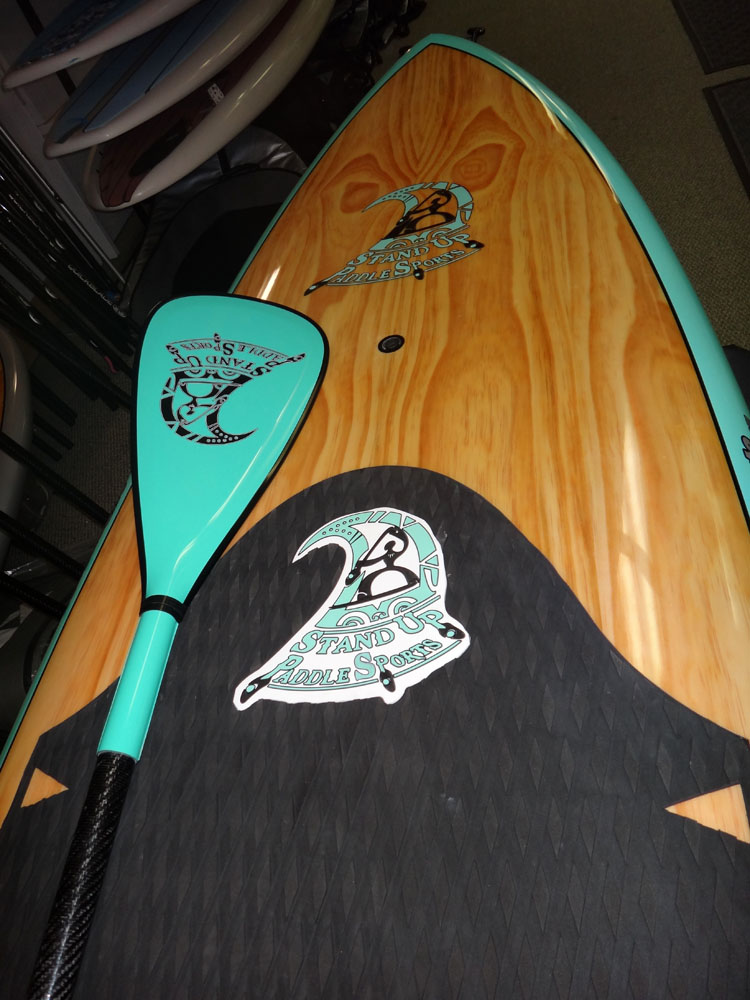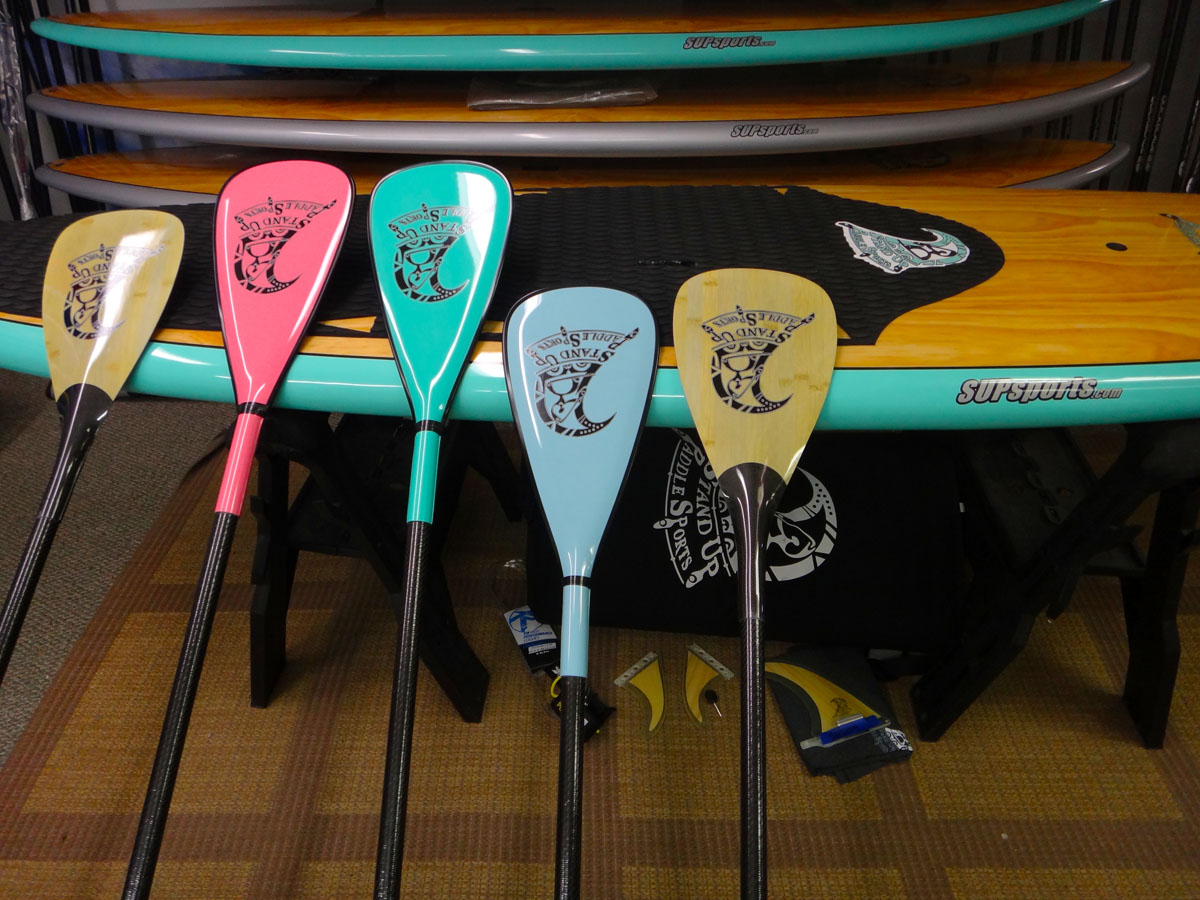 Check out our new SUP Sports SUP bags…